Zac Build Guide by Blubtastic

Zac, Carry w/ New Items
x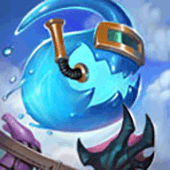 Did this guide help you? If so please give them a vote or leave a comment.
You can even win prizes by doing so!
I liked this Guide

I didn't like this Guide



Commenting is required to vote!

Thank You!
Your votes and comments encourage our guide authors to continue
creating helpful guides for the League of Legends community.
Runes:
Snowball
Sorcery
Phase Rush
Nimbus Cloak
Transcendence
Waterwalking
Resolve
Conditioning
Revitalize
Bonus:
+8 ability haste
+6 Armor
+15-140 HP (lvls 1-18)

Spells:
Flash
Smite
Threats & Synergies
Threats
Synergies
Extreme
Major
Even
Minor
Tiny
Show All
Extreme Threats
Ideal Synergies
Kayn
His insane amount of healing and generally slipperiness makes you a walking heal-stick. Hard to hit with CC and is hard to stop late-game.
Yasuo
Your long range enage knockup is perfect for yasuo R, especially as you'll continue the CC chain a while after the ult.
Synergies
Yasuo
Your long range enage knockup is perfect for yasuo R, especially as you'll continue the CC chain a while after the ult.
Champion Build Guide
Welcome!
This is my personal build/guide that i use for most of my Zac games. I'm a otp zac player with about 1,200,000 mastery points, and have been playing him since he was released. I used to be Diamond, but don't much care for ranked anyone due to toxicity, among other things.
In general, i found this build / playstyle to be highly effective both when you need to carry randoms or play with people you trust. So whether you want to climb or just have fun, i hope this guide can be of help to you. Feel free to ask questions and i'll answer to the best of my ability.
Keep in mind that
this guide is based on my preferred playstyle
. It favors ability haste (AH) and tank stats, and useful actives/passives for baiting and controlling fights.
This may not be the way you like to play, so don't take this as an ultimate source of truth.
NB! This guide is a work-in-progress for the new season and will be updated regularly as i figure out what works and not.
If you want to play a versatile, unpredictable and fun champion that can be both tanky and bursty at the same time, zac is your guy. By building tank items with Ability Haste, you'll be able to gain an XP and Gold lead by simply farming, roaming and ganking more efficiently than traditional tank builds. Your potential to carry also increases, as you can dish out more damage in fights while still being tanky.
Although this philosophy applies to many champions, it has some extra advantages for

Zac
:
Picking up blobs heals zac. More blobs = more healing.
Each blob pickup reduces Unstable Matter's cooldown by 1 second, which deals percentage hp dmg. This means you can fight both tanks and squishies once you get enough

Ability Haste

.
Lower CD on Elastic Slingshot means faster map traversal. You're also harder to catch.

Shorter cooldowns = faster clearing (not unique to Zac). An Xp and Gold lead is essential for being able to snowball and carry games, so efficient farming is key.


You might wonder why this build recommends

Phase Rush
. The main reason for this is to improve some of the weaker sides of Zac.

Elastic Slingshot
is a great engage tool that can be used from unexpected places, but he's very reliant on hitting it. When this doesn't happen,

Aftershock
isn't triggered because it needs hard CC and you're stuck in the middle of the enemy team with few tools left to escape or further engage properly.

Phase Rush
be used to deal with this.
It's worth noting that aftershock still is a great choice, and it really depends on your preferred playstyle.
If you're used to

Aftershock
it might also take some time get comfortable with

Phase Rush
, it sure did for me.

Phase Rush
This rune has great synergy with Zac, and can be useful for both escaping fights and stronger engages.
It needs three hits to trigger, which can be basic attacks, abilities, smite, and so on.
The increased move speed has many advantages for Zac:
After a successful

Elastic Slingshot
hit, the speed lets you get to the opposite side of the enemy so you can knock them towards your teammates with

Let's Bounce!
.
After a
failed

Elastic Slingshot
, you can quicly trigger

Phase Rush
and use the move speed to escape. This is especially useful when confronted by enemies early when Zac can't really duel.
In fights you'll be able to pick up more blobs with the extra speed, which means more healing and more activations of

Unstable Matter
. The extra %hp dmg makes a big difference, especially when building an AP item.
Pro's
+ Easier to engage
+ Easier to escape when missing

Elastic Slingshot
+ Easier to position yourself for CC chains
+ Extra damage from

Unstable Matter
uses
+ Deals with 'typical' counter picks that abuse Zac's low mobility when E is down
+ The slow resist counters slow-based champions
+ Zac benefits greatly from the Sorcery tree
Con's
- Hard CC is still an issue, especially late game.
- Still need three hits to activate, can be hard if CC'ed
- Less room for error without the initial aftershock tankyness

Aftershock
Still a really good choice for Zac. I would recommend going this if you're not that experienced with Zac and Phase Rush. With aftershock you can tank more damage after engaging and deal some extra damage when it ends, which often can be game changing.
When using aftershock you should be aware that missing your E leaves you very vulnerable. Unless you're able to apply CC by hitting two different targets with

Stretching Strikes
or one enemy with

Let's Bounce!
, you can be burst down pretty fast.
Pro's
+ Harder to be burst down if hitting CC
+ Extra dmg when it ends
Con's
- Mising

Elastic Slingshot
leaves you vulnerable
- Less mobility in fights
- More easily kited / harder to escape
Starting red is good as you end up close to scuttle after the first clear and it reduces the chance of the enemy jungler stealing your buff camp.

Your main goal is to farm 3 rotations as fast as possible. This is an essential part of being able to snowball because XP is at least as important as gold for getting ahead.
You can typically get in one gank each clear, possibly two if you're fast. Try to be at krugs for the next rotation when it spawns. The third rotation will then spawn at the same time as blue/red, making it a really efficient clear, and putting you in a good position to control the game.

You can either back after one clear for finished boots, or two-three clears to get kindlegem as well. Remember to always have 1-2 Control Wards on you as you need it for objectives and map control.

Take dragon if you're close and you spot the enemy jungeler topside. Zac can solo drake because of the healing from his passive, just make sure it's not warded as you're i trouble if enemies appear as you will be low and you're weal alone.
Standard Combo
---
---
---
---
---
Instant vs charged knockup duration
---
Everyone knows that skins = wins.
S+ Tier
The best zac skin. The color palette and smooth sound effects help calm the mind and reduce tilt.
Also it has ducks.

S- Tier
These skins look kinda mean so only pick them if you want to play agressively. Useful when going AP Zac or for more Spicy games.
God Tier
No need to explain this one

This guide is made with the thought that it can be imported into the LoL client.
By doing this you can see this build in the ingame shop when playing. You can also bind items to specific slots, so you don't have to move them each game to get the correct key bindings for active items.
How to import this guide to the LoL client
Copy this guide's link
Go to the build copier site
Type a title, paste this guide's link, and click 'Submit'
Paste the results into the client (go to COLLECTION -> ITEMS -> "import item sets")
Your item set will now be available in-game in the shop under the "items" tab.