Trundle Build Guide by FlopyWeiner

COMPLETE TRUNDLE GUIDE (ALL PLAYSTYLES) S12 👹
x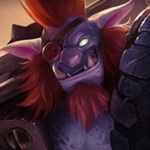 Did this guide help you? If so please give them a vote or leave a comment.
You can even win prizes by doing so!
I liked this Guide

I didn't like this Guide



Commenting is required to vote!

Thank You!
Your votes and comments encourage our guide authors to continue
creating helpful guides for the League of Legends community.
Choose Champion Build:
F1uffy Bunny's Trundle

TrundleTop1's Trundle

High elo build (KR/NA)

GRF Tarzan's Trundle jungle KR

High elo support build

Tank Trundle jungle

Classic Trundle

Full split Trundle (Slightly off meta)

romanium diff101 high elo build

Ap Trundle (For fun)

Lethality Trundle
Runes:
VS majority melee troll
Precision
Lethal Tempo
Triumph
Legend: Bloodline
Last Stand
Resolve
Bone Plating
Unflinching
Bonus:
+10% Attack Speed
+9 Adaptive (5.4 AD or 9 AP)
+6 Armor

Spells:
Aggressive low elo stomper
Flash
Ignite
Ability Order
Ability levels
King's Tribute
(PASSIVE)
Trundle Passive Ability
Threats & Synergies
Threats
Synergies
Extreme
Major
Even
Minor
Tiny
Show All
Extreme Threats
Ideal Synergies
Trundle
TROLL TOWN!
Yuumi
They heal, your w increases heals.
Synergies
Yuumi
They heal, your w increases heals.
Champion Build Guide
𝙄 𝙖𝙢 𝙁1𝙪𝙛𝙛𝙮 𝘽𝙪𝙣𝙣𝙮, 𝙖𝙣 𝘼𝙅𝘼 𝙘𝙤-𝙡𝙚𝙖𝙙𝙚𝙧 𝙖𝙣𝙙 𝙩𝙧𝙤𝙡𝙡 𝙠𝙞𝙣𝙜. 𝙒𝙚𝙡𝙘𝙤𝙢𝙚 𝙩𝙤 𝙢𝙮 𝙜𝙪𝙞𝙙𝙚 𝙄'𝙫𝙚 𝙨𝙥𝙚𝙣𝙩 𝙖 𝙡𝙤𝙣𝙜 𝙩𝙞𝙢𝙚 𝙤𝙣 𝙞𝙩. 😈👑
> AJA TIKTOK <

THIS SHOULD BE BASIC KNOWLEDGE But if you need a reminder, split on the opposite side of the objective. Trundle is also fast enough to take 2 lanes in around the same time so you can split top and mid objectively around the same time.

Essence Reaver
Is really good because it gives you infinite mana and is a stupidly low price. Add this with

Black Cleaver
and the ability haste it gives you allows infinite w's and q's. Along with the health and ad, you become pretty unstoppable at this point. The mythics are completetly what you feel is the biggest issue for you in that specific game. Thats a really important thing to note.
CHANGES:
With the preseason changes its shifted a lot of power to BAMI's items. Because of that double sheen and running other mythics will be less common just cause its not as strong or worth it.
ADVANCED ITEM EXPLANATION
If you want to get into fully in-depth why I believe this is optimal here you go.

I can't make this **** up man. The amount of buffs that they consistently give to these two items makes it so insanely worth it.
The gold efficiency of this broken-*** item is 103.87%.
Plus 20% crit is absolutely massive when you're attacking 2.4 times a second in the late game. You have infinite mana and its a dirt cheap rush. The combination of
these two items brings your W cd down to 7.33 seconds
and it lasts 8. That means you have a permanent 110% attack speed increase, 25% increased healing, and 52% movement speed PERMANENTLY. The ability to become a manaless champion and the pressure you can create makes this item inexcusably the best.

Black Cleaver is a LARGE reason why this works so well. Normally delaying a power spike is a very bad idea because of mainly gold efficiency. BUT the amount of stats you gain from
black cleaver is 106.72% gold efficient
. It gives you your ability haste power spike faster (infinite q w as mentioned in "ITEM EXPLANATION") It also gives you amazing stats and helps vs peeling. But then you mention the regressive passive interaction with Trundle R, that is very true. You have to take into account that if you are planning to kill a squishy target you need to ult at the start and if its a tank you need to trade with black cleaver and engage at a reasonable HP. Also the argument of 30% armor shred gold value going down from Trundle R is not true. If I ult a Garen at 200 armor and it steals approx 60 armor he still has 140 armor. If I ult a squishy it is still 30 ****ing percent armor pen there is no case this item is not worth it to buy in its current state.

Lethal Tempo
Is needed for the number of duels you do. Personally, I like

Unflinching
and tenacity and

Sunfire Aegis
for the mass amount of tenacity. if you're going for more split you can go

Overgrowth

Demolish
.

Grasp of the Undying
This is really good against your hard matchups. It is your most reliable rune setup, you don't snowball as hard but you can survive lane and have a greater impact on the game, especially with

Demolish
.
CHANGES:
CONQUEROR(REMOVED) - NEEDS BUFFS TO BE VIABLE.
GLACIAL AUGMENT(REMOVED) - CHANGED TO A SUPPORT RUNE, NOT AS GOOD FOR MID.
FLEET FOOTWORK - LETHAL TEMPO OUT POWERS IT TOO MUCH, NEEDS BUFFS TO BE VIABLE. INSTEAD GO SECOND WIND, AND DORANS SHIELD.
VS RANGED TRADE:
E+Q+W+AA+Q
VS MELEE TRADE:
AA+Q+W
WHEN YOU WANT TO ALL IN JUST R BEFORE THE COMBO
Now, believe it or not, Trundle does have mechanics.

AA Reset:
The most important mechanic to learn is an auto-attack reset. Most champions do not really have to care about this but on a champion like Trundle with such a low q CD, you really want to be prioritizing it.

Trundle W:
But that is pretty basic let's move onto mechanics strictly about Trundle, Trundle W will go the full distance over a wall. You can also animation cancel your R by doing an aa w at the same time while ulting.

Trundle E:
Trundle E can block dashes, Trundle E can block hooks, Trundle E can block Ornn e, and Sion R. (unknown embed type)
After killing someone or completely ****ting on their entire nexus spam "
/ALL TROLL TOWN
" This strategic move will ruin the enemy's mind and acquire your victory!