Darius Build Guide by Sandor Clegane98

CHALLENGERS HATE HIM, ONE MAN DISCOVERS THE SECRET TO SOLOQ
x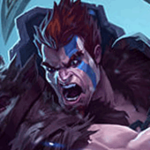 Did this guide help you? If so please give them a vote or leave a comment.
You can even win prizes by doing so!
I liked this Guide

I didn't like this Guide



Commenting is required to vote!

Thank You!
Your votes and comments encourage our guide authors to continue
creating helpful guides for the League of Legends community.
Runes:
EXAMPLE 1
Precision
Conqueror
Triumph
Legend: Tenacity
Last Stand
Resolve
Unflinching
Second Wind
Bonus:
+10% Attack Speed
+9 Adaptive (5.4 AD or 9 AP)
+6 Armor

Spells:
THE GOLD STANDARD
Flash
Ghost
Recommended Items
Ability Order
SPELL ORDER
Hemorrhage
(PASSIVE)
Darius Passive Ability
Threats & Synergies
Threats
Synergies
Extreme
Major
Even
Minor
Tiny
Show All
Extreme Threats
Ideal Synergies
Cassiopeia
Pretty annoying,be sure to make effort by dodging her poison q's as this is your #1 priority in order not get outlaned,once you get into pull range, she's a dead snake. Second wind - D-shield is a must here.
Synergies
Champion Build Guide

It is only recently that I realised just how much support I'd have gotten on this guide that was featured here over the years and after finally finding out my old login credentials I hopped over to my profile and checked my inbox and all the PM's I got from the community asking for an update for the D man and wondering where'd I go, and seeing the old guide with so much success I felt a deep sadness inside, the peepoSad kinda of sadness y'know? The kind of PepeSad you post on tyler1's echo chamber chat in conjuction with the other PepeSad's whenever something...sad happens yeah?
I quit the game in season 8 after all of my accounts got banned, SHAME ON ME YES, '' YOU ARE THE 0.000000000000000000000000000000000000001 % of the most TOXIC players in the playerbase BLABLALBLALBALBLABLABL '' and moved on with my life, doing productive ERRRR life things yea? Well actually I just started playing WoW again,
| | |
| --- | --- |
| | I played it right around mid summer of this year and grew bored of it, well burned out if you will, my friend group stopped playing and the content became too repetitive, mind you I was playing the classic version and then the TBC version which is basically a replica of the old version of the game waaaaay back in the dinosaur ages... I mean 2004-2007. |
But yeah, I was feeling empty on the inside and decided to hop back on League, and boy oh boy I was hooked, AGAIN.
TLDR I wanted to give back to the mobafire community for the support it gave me during the s6-s8 years and ofc the D man community specifically, everyone knows that DARIUS players are the true gigachads of season 11, after all we are basically an off meta pick in a season where bursty flashy champions dominate the game and old champs like darius are left the dust to cry themselves to sleep...
| | | |
| --- | --- | --- |
| | AND STARTING TODAY MY FRIENDS, THAT IS A STIGMA THAT I AM LOOKING TO BREAK AND TO PROVE THAT YOU CAN CLIMB WITH PAPA DYRONE ALL THE WAY TO TOP OF THE FOOD CHAIN | |
Sit back, grab some food and relax kiddos, because we are heading back all the way to season 5, I started my journey near the end of season 5, y'know back things were simple and champions releases had kits like this:


Get my point ya'll? Well anyway being the newbie I was, on the proposition of my little brother who was way more experienced than I was at the time I started on toplane and well... Liked it.
Well I have no friends irl and I'm not a teamplayer and I have shoesize IQ so naturally it was a fitting role for me right? RIGHT? Well actually
YES
.
You see I got good at it, when s6 rolled around I started ranked and got DRUMROOOOOOOL; SILVER 4, but hey we were off to a good start, soon enough I got gold, soon enough I got platinum, soon enough...
Yes you guessed it, diamond... AAAAAND SOOOOOON ENOUGH... MASTER!
AAAAAAAAAAAAAAAAAAAAND SOON ENOUGH even challenger.


It is true that I was challenger, my biggest peak was 450LP, but I didn't manage to replicate that sucess ever again, that season which was season 6 I ended on 200lp ish masters I believe, and since then cruised around masters, when I came back to the game again a few months ago I wanted to replicate that sucess but not only that, I wanted to do it on a server that was known for it's reputation as one of the most toxic and difficult to climb servers, no not you koreans;
You see, eune is often memed by the EUW community for being an easier server to climb and how its often 500 lp difference aka if you're d4 on eune u're equivalent to p4 on EUW, catch my drift? Well I wanted to prove myself that I could replicate my EUNE sucess and the first goal I did coming back into league was getting Master's on EUW, and mind you,
The game changed and the meta changed, no longer could I abuse the old keystone courage of the colossus to steamroll my name to 450lp challenger, it was time to actually get good at the game, crazy I know. I did my promos on a new acc I leveled and named I SKIP LEG DAY , NOW MIND YOU, I DONT SKIP LEG DAY, it was only made like that to provoke people around me for the lols, I SWEAR.

Platinum 4 for weeks, can you believe it, me a challenger player, I was ready to gouge my eyes but then I
had an epiphany, yes me a donkey who doesn't know any better, the idea was that first, swallowing my ego was a must, because I was ashamed to admit it but I had to relearn how to play the game, it was only after I took a step back and reevaluated what I was doing and started step by step playing towards my old habits is how I managed to climb again, and guess what?

Fast forwards 2 months and this happened

So yeah, I proved to myself that I still got it, and on a server notorious for its difficult solo q nature, and I will still aspire to climb higher into the ranks of grandmaster and chally, but as the season ends soon, that is an endeavour that I will have to hop on next season. So yeah.
PROS




+ MR OLYMPIA LEVEL PHYSIQUE AND STRENGTH




+ COMMANDER OF A FIERCE NOXIAN ARMY WHICH MEANS HE GETS ALL THE WOMEN




+ THE ORIGINATOR OF THE GUILLOTINE (Not you french people)




+ DEALS MASSIVE DAMAGE WITH HIS PASSIVE




+ DECENT SUSTAIN THROUGH Q




+ ULTIMATE DEALS FLAT TRUE DAMAGE




+ SOME SAY THE TRUE GIGACHAD (probably has noxus tattoed in his abdominals)



On a serious note, the man himself is simple to understand, deals the damage you expect only from a late game adc but has the tankiness of an off-tank, kinda sick, and rightfully so, the man's power stems from the stacking of his passive Hemorrhage which gives him an insane amount of ad that you use to cut through the enemy with nothing but BRUTE FORCE BABY, theres just something special in being able to 1v5 you know? Itemization is pretty straightforward with lots of room for adaptability depending on the enemy comp, add to the fact he is moron proof, errrr I mean he relatively easy to pick up, or at the very least isnt a high skill ceiling champion. The guy does really well into team comps with low mobility and teams with tanks that allow you to stack your passive long enough to allow you to pop off.

CONS




- GETTING ALL THE WOMEN MEANS FIERCE HATRED FROM THE DEMACIAN MALE POPULATION




- YOU ACTUALLY GET FLAMED FOR PLAYING HIM MUCH LESS MAINING




- REQUIRES DECENT MATCHUP KNOWLEDGE IN ORDER TO SNOWBALL




- RANGED CHAMPS COULD GIVE YOU ERECTILE DYSFUNCTION




- LOW MOBILITY >>>> CANT STACK PASSIVE AGAINST HIGH MOBI CHAMPS



Did I mention the guy is low mobility? Yeah you'll hear that alot anywhere you go, because well... It's true, in a meta of gapcloses and CC, darius offers none, well his E does actually act sort of like a 1 second stun during the animation phase and the W 1 sec slow but apart from that the guy literally has no means of staying on top of anyone that has high mobility / high dash / disengage abilities, you kinda just have to use your mouse to always click over the yonder where the enemy is moving to make sure you have a chance of staying close to them and finishing them off when your E W is on cd, the guy also just simply does terrible into team comps with no tanks / off tanks, this is due to the fact that in order to actively get your passive up by means of using your R to finish someone off or by stacking, you need to stay on top of someone long enough for it actually work
I am actually not going to include other runes such as the

Phase Rush
and

Grasp of the Undying
just to name a few specifically for one reason;
inefficiency
, when we are talking ranked soloq we want efficiency and above all else
consistency
, and when we add up all the major rune keystones up against one another

Conqueror
ends up on top all time even in it's nerfed state, that is because tankiness and mobility is something that we will naturally attain from item building but for the sole laning phase and the ability to snowball

Conqueror
is the #1 keystone that's going to allow us to best play the D man to his full potential.
The other runes in the precision tree and in the resolve tree/sorcery tree is something that's up for mixing up depending on the matchup and that's what we'll get into;
Staring off after

Conqueror
we have

Triumph

Overheal
and

Presence of Mind
, but I only included

Triumph
because again for consistency reasons it is the best rune to take out of the three due to darius' nature of wanting to stay alive during TF's as much as possible and takedowns will allow him to regain some of the lost health through

Triumph
, the other runes in this lineup do not serve the big man's purpose and playstyle enough to warrant consideration.
The first debate here are these 2 bad boys, personally I always take

Legend: Alacrity
for one reason, attack speed, you see I like it alot, and I know the dyrone community likes attack speed aswell hence all the

Trinity Force
users but I actually value it alot more since I am a

Goredrinker
enjoyer, and I found through experience and just my overall preference that taking

Legend: Tenacity
isn't usually needed when you're already equipped with

Mercury's Treads
and

Unflinching
but again it for you the readers it boils down to this;
If the answer is yes then

Legend: Tenacity
is more than welcome in your arsenal but if the answer is no then

Legend: Alacrity
is the better option as it will give a better dps output at no additional expense.
The final debate is the

Coup de Grace
and

Last Stand
lineup,

Cut Down
is not included because it's intended for glass cannon champs, but aaaaanyway, this is a personal preference but my advice would be

Last Stand
because in teamfights you're the superstar, errr you're the number 1 target for the enemy team to take down because you're right up in their face trying to decimate them all 1by1 so it feels only natural to take this rune over

Coup de Grace
,

Coup de Grace
is actually good for laning phase more so if you feel like you could snowball better then by all means be my guest.
Regardless of the lineup I personally believe

Unflinching
provides unmatched value to the point it's irreplacable with any other rune found in the resolve tree, if you took resolve for the sole reason of dealing with a cc heavy enemy team then you can't go wrong here, the value is exponentially increased the lower your hp goes during fights.
The second lineup you will be debating is actually gonna be 3 situational runes all with their own distinct utility that I found useful, starting off with

Second Wind
this is the GO-TO rune you take against any poke heavy lane that's not about all ins. The

Bone Plating
is a different story, poke champions can easily proc it and make it useless thus it is used against melee champs that you are gonna basically all in, whilst the

Demolish
rune is something you take if you're confident you are gonna win your lane and allows you to snowball faster by yoinking the first blood tower faster.I find myself using

Demolish
alot.
| | | |
| --- | --- | --- |
| | Sorcery is the big boy club, even if the team has multiple cc champs i'll still find myself yoinking this tree especially when ragequeing | |
Aaaaaand whoever said that was right,

Nimbus Cloak
allows us to pop a summoner spell with a twist of speed that the enemy laner / team usually doesnt expect, a trump card if you will, a hidden trick up your sleeve, imagine an enemy darius starts running at you at 600 movespeed all of a sudden after just popping

Ghost
???
Yeah...
Outplay potential > amazing
Escape potential > amazing
PENTAKILL potential > amazing
Taste of enemy LP after game > amazing
Pretty straightforward

Celerity
allows us to supplement

Nimbus Cloak
in order to provide us even more move speed, essentially making it better than it already is, with some extra passive move speed to have at all times which on champs like dyrone is always a welcome thing because did I mention darius is a low mobility champion?
Last in line the

Diamond
and

Axe
keys are 100% always picked with the last exception of the

Shield
or

Circle
rune which you take based on your matchup.
Ah yes, the twin pillars that hold Darius together in the current epilepsy warning meta with flashes dashes gap closers and you name it... I am not going to talk about

Teleport
or

Ignite
as I'm a firm believer that they do not bring the value thats needed to consistently climb soloq, and as such I'm excluding them,

Flash
first and foremost is a must have as it is the
teleport behind enemy lines
and insert omae wa mou shindeiru line before tearing up the backline, it is considered the only tool darius has to shred the enemy carry,

Ghost
on the other hand is a much more flexible and lower CD summoner that allows the D man to stick to any enemy he wants to cut down and simultaneously get resets if he manages a takedown, which exactly what we want, since Darius thrives off speed... not the drug.
| | |
| --- | --- |
| Boots are an essential piece to full build (DUH) but theres a very special value specific to the d man when you rush early finished boots on him, depending on the matchup it can make things substantially easier for you rather than just rushing a mythic like the average league enjoyer, now when I said speed is important I mean't it, you see it gives you the ability to stick to an opponent long enough to stack your passive and see the demise of your laner, a privilege denied to you whenever your summoners are on CD, and this is something that I would recommend to just about any new or old Darius player to focus on, because it gives you an added safety feature aka being less prone to ganks not just the ability to kill and that is something not to take for granted. | |
| | | |
| --- | --- | --- |
| | Kicking the footwear off with the AIRMAX 200 aka the ninja tabi aka the plated steelcaps ( i liked the old name better...) these boots are possibly one of the best possible early game cheeses you could do against a melee / AD poke laner, the passive which negates 12% damage from attacks is phenomal in negating damage and allowing you sustain long enough to outtrade your laner, the fact you finished boots early not only gives you the movement speed previously mentioned for both survivability aka avoiding ganks but also for offensive capabilities aka sticking to whoever you're running down, anytime you feel like you're struggling in trades against any melee laner you CANNOT go wrong with rushing these bad boys, so don't be afraid to do so, the d man will thank you. | |
The opposite of AIRMAX 200 we have the mercurials for retaining a sense of control during crowd control aka not getting bamboozled by 3 second long

Morgana

Q's aka actually being able to kill

Kennen

in the laning phase when he stuns you but you were smart and rushed

Mercury's Treads

and managed to outsustain her long enough to dunk her, see a pattern? The idea here is that by rushing mercs we are practically maxing out our tenacity when coupled with

Unflinching

and

Legend: Tenacity

and crowd control will be so short on you that you'll feel practically invincible at times, so for your own sake, when you find yourself struggling against heavy cc champs mostly AP based such as

Kennen

,

Ryze

,

Cassiopeia

etc. rushing this is not a bad option at all, and with the earlier chart that was mentioned, you build these bad boys when the enemy team packs a substantial amount of CC.
The nike air runners is a special type of snowflake if you will, usually reserved for gigachads, for good reason, this is something you build when you're absolutely confident in your ability to actually play the game without the added tankiness of

Plated Steelcaps

or the tenacity given by

Mercury's Treads

, and that confidence lads, comes with experience, no1 can give you experience but yourself, so get to work, I very rarely myself build these unless I'm usually ragesplitting sidelanes and want to stay mobile long enough to avoid potential buschwack flanks / ganks in the mid/late game.
| | | |
| --- | --- | --- |
| | THE GYM NEWBIE STARTER PACK | |
Ah yes, you probably seen these 2 items quite alot on alot of champs I assume, well theres a good reason, you see...
And it's only natural in order to climb by minmaxing what the current state offers the most to your ability to climb, and in this case,

Goredrinker
and

Sterak's Gage
is where it's at folks.
Well I'll be honest, I'm not a fan, really. I supplement with the attack speed rune +

Legend: Alacrity
for all the attack speed I need, the rest starts to get redundant, because timmy, we want
SUSTAIN
, what good is all the power in the world if you'll get killed before you get to use it? And the new

Goredrinker
changes that gave it
omnivamp
in place of ad is actually a decent thing for the D man, you see theres a pattern to just how strong you can get before you just get destroyed in a second, and these 2 items give you the sustain you need to get through a teamfight with actual kills aaaaand your head is still intact, IN SEASON 11 !!! Crazy I know !!! It isn't to say

Trinity Force
or

Stridebreaker
are bad items on

Darius
actually they do have niche uses for when you're giga ahead and can afford to sacrifice some tankiness, the one other debate I'd like to introduce is;
I don't see alot of Darius players build this, and while there is a good reason, I'd like give you this opportunity to change your mind, when the enemy has 4 AP dealers, and remember I said 4, then first item rush should be

Hexdrinker
>

Goredrinker
>

Maw of Malmortius
, this is the only time it will ever make sense to build

Maw of Malmortius
over

Sterak's Gage
, you gonna fight cheese with cheese, right?
| | |
| --- | --- |
| One of my all time favorite safe backs when you have 950g to spare is the doubby roubby so to speak, in it's essence I have basked for as long as I can remember, you see theres something special about elongating your hp bar by an extra 1/3 on your first back that it makes all ins waaaaay easier, darius does not need damage, he wants sustain lads, SUSTAIN, and this path allows you to do exactly that, if the circumstances didn't allow you to back with 950g+ then don't fret and build accordingly to what you can afford, but I put extra emphasis on Refillable Potion as it acts like 250 extra hp and actually in the long run costs 90g after you sell it, now do you HAVE to pull the doubby roubby? No, but if you're unsure about the matchup and feel like you're struggling, this will always be a safe bet, even when ahead. | |
You really can't go wrong with this guy, it gives you all the tools you need to survive JUST long enough either to peel your buddies or be the star of the show and get a pentakill, now proccing the active is something that you should usually reserve for after your

Sterak's Gage

Maw of Malmortius
gets procced because if you end proccing both shields at once it will become too big for the enemy to cut down through that short duration and you'll actually end up being less tanky than intended, so just save it as a trump card when things get nasty. The resistances are self explanitory, I personally take this item whenever I'm against a balanced damage team.
Found myself yoinking this bad boy against a 4+ AD enemy champion composition, the combination of AD, armor, CDR and another

Triumph
in your arsenal is already very enticing, but the real kicker is in the passive, tldr; it negates the burst you'd receive from an otherwise burst heavy ad composition (think assassins), if you find yourself in a situation where you don't need to build

Dead Man's Plate
but instead just need an added layer of tankiness when up against a heavy ad team, you can't go wrong with this guy.
Between this and

Thornmail
? I'll be honest, I almost never build

Thornmail
unless I am craving tankiness, the reason is the enemy actually has to attack you first in order for you to apply grievous wounds, a problem otherwise solved when you build a little bit on the offensive side, which where this guy comes in, if you're dealing against a composition that has 2+ champions that heal alot,

Yuumi
and

Kayn
,

Aatrox
and

Soraka
etc. then it makes sense to rush items like this, in another case where the enemy comp only has 1 heavy healer where unless I'm laning against him, i'll skip this item.
I'll be honest, I haven't really built this item long enough to give a sizeable reason on why you should build this, but first impressions? Not bad, not bad at all.
The passive actually reminds of the courage of the colossus abuse era (season 7?) where any slow or immobilization effect you'd do on an enemy champion would grant you a %shield based on your max health or smth like that, well this guy does exactly that but based on:
1: %mana
2: if more than one enemy champ is present.
If you're torn on what to build after your mythic +

Sterak's Gage
combo, you can decide to rush this guy for the added layer of tankiness it provides, oh and you also get more mana which is cool I guess?
Primarily intended to give you mobility for more map pressure, this bad boy on it's own stats doesn't provide too much, but the passive makes up for it granting you up to 40 extra movespeed that dissipates on your first AA, but quickly gets replenished as you continue moving, super good item for games where you end up chasing people alot and just want to make sure you stick to them, whether or not your summoners are up, unless the team has absolutely no AD damage dealers / low ad, you should include this guy in your arsenal.
I like this one alot, similar to

Dead Man's Plate
the stats alone are subpar at best but the active which basically ressurects you with some health and mana is the real deal here, irrespective of the team comp, if you suspect the game is about to close and can't afford dying, especially in the late game, then this is the item for you.
Now I really like this one, against a heavy magic dealing team this guy provides you with a solid flat MR stat stick and some health / move speed to boot but the real kicker is as you take damage that MR stat stick exponentially grows up to a cap along with the movement speed, a very highly recommended item against 3+ AP champs on the enemy team.
Spirit visage used to be the to-go MR item for tanks and juggernauts, but times have changed unfortunately,

Force of Nature
does everything that

Spirit Visage
does but better, the heal gain from

Spirit Visage
gets easily negated when the enemy team builds
grievous wounds
, but the one time it actually makes sense over

Force of Nature
is when you have a

Yuumi
on your team and you're usually the carry thus it can actually be a solid boost to your tankiness, couple it with

Revitalize
and you're actually starting to become a real healer.
A former glory of it's past self,

Randuin's Omen
used be my go to 2nd item pick after

Black Cleaver
in the earlier seasons but that unfortunately changed as it go gutted to a low hp high armor damage mitigation item, but frankly it still has solid uses for a team of 2+ autoattack based champions, the more the merrier, so be my guest, oh and it's cheap.
Started building this recently as a third option when I'm torn between items, it got a solid buff a while back which means only after 1100 extra hp did the passive started to proc, although on its own it might not be THE best choice during all ins (though the 800 hp is pretty nice) it's amazing for when you're poked down and instead of having to

recall
you simply heal it back after a couple of seconds of downtime,it does actually kinda make you imposing to the enemy team with that huge chunk of hp it provides, but what are you a tank rip off or a gigachad?
This is one of those items you build for the sole reason of negative the healing of whoever bothers you the most on the enemy team, if the healing actually gets really obnoxious in the early game, a

Bramble Vest
rush is no slouch.
One of the most iconic passives,a pretty strong one too,your enemies suffer bleed damage over 5 seconds that you can stack up to 5x times,every autoattack or an ability from ur kit applies one stack,the bleeds scale off your bonus ad,and when you reach max stats the bleeds get so heavy depending on how much ad you have that they can sometimes secure kills with ease,atop of that,when you bang 5 stacks you recieve bonus ad depending on your level, The most efficient way to stack this passive is to combo your abilities with AA in between them,for example aa and then

Decimate

,aa and then

Crippling Strike

,this way you max out your damage output,you can also think of this passive as a second ignite,excluding true damage and being a bit stronger if its on a squishy target,sometimes you might even see people cry in chat cuz they literally bled to death xd.So when you get to the point where you do actually have full stacks,be sure to keep it up as much as possible by continuously autoattacking whatever you see in sight regardless of whether or not if it is your primary target to kill,this way you ensure you'll be dunking the way The Bulls always intended you to.
Your '' bread and butter '' as everyone likes to call it,as you know,this is what you max 1st,its your primary poking,trading,sustain and farming tool,it does quite a decent amount of damage even without a stacked passive,as mentioned,it provides 1 stack if if land the outer axe damage.

The problem with this ability is it's kinda of a two way ability,you can damage people either by the shaft or the outer axe,so basic positioning is important,another iconic effect is the heal you receieve if you land the outer axe,the heal is bigger the less health you have,in other words,12% of missing health per champ hit,up to 36% max.

During teamfights you are very obnoxious to deal with thanks to this healing,since you're a tank,a tank that has self instant sustain that increases with each champion hit,you're just way too good.The Chicago Bulls approve this.

Geek notes:
Decimate is a point-blank area of effect ability.
-Applies spell effects as an area of effect ability.
-Spell vamp is reduced to one-third effectiveness.
- Rylai's Crystal Scepter will apply a 20% Slow icon slow for 1 second.But we don't exactly plan on building this....right?
Banshee's Veil Spell shields will block the ability.
Crippling Strike - W

Another starter type ability,you can essentially go lvl 1

Crippling Strike

if you're looking for a lvl 1 cheese kill,essentially walk up to the enemy laner and start aa'ing and then as he starts turning around use your

Crippling Strike

on him to cripple his movement enough to kill him or force

Flash

,this is basically something you max last,reason is maxing this only reduces the CDR and nothing else useful really that would be more superior than maxing

Apprehend

or

Decimate

.

Anyways don't let this deceive you,this ability is your primary aa canceler and shouldn't be underestimated,look at this ability as an autoattack that does additional 40% dmg and applies a 1 second slow,anyways though,max last.

Geek notes:

-Crippling Strike is an on-hit effect.

-The triggering attack will apply other on-hit effects and can critically strike as normal.

-As with most on-hit physical damage, the bonus damage from Crippling Strike will apply life steal.

-Critical strikes will not interact with

Crippling Strike

's damage.

-

Crippling Strike

's damage will affect structures.

-

Riposte

will block the damage, slow, and

Hemorrhage

.

-

Aegis Protection

will block the damage but not the bleed slow or

Hemorrhage

.

-

Crippling Strike

cannot hit through

Counter Strike

, blinds, or

Spirit's Refuge

.

-

Banshee's Veil

Spell shields will block the slow.
So after a brief cast time,you pull everything (champions / creeps) into your melee range,essentially knocking them up for the duration allowing for some Yasuo synergy which is great,anyways after the pull is over they're slowed by 40% for 1 second,the passive on this ability is also one of the great things on Darius,you gain 5% armor penetration every level,up to a maximum of 25% armor penetration,now couple this with a Black Cleaver,how neat is that?

You can also use this ability over walls and structures to gain vision for 1 second on the other side lol... It also doesn't have any limit on how much people you can pull meaning you can legitemetely pull an entire enemy team into your melee range allowing your team to crush them all at once,it does however have very high cooldowns in the early levels so you have to be sure to save this ability only for when you need it meaning if someone is in your melee range don't just blatantly pull them for no reason,save that damn ability for when they'll try to escape.Definitely max second.

For geek notes, Banshee's Veil spell shields still block this ability and it's important to note this is a conic ability,sort of like a skillshot really.
Heres your most iconic ability in the game, The M.J.'s slam dunk,first of all it acts as gap closer so you can use it outside of melee range,apart from that,the dmg is
true damage
meaning you can shred tanks / squishies / carries / whatever regardless of their tankiness,at lvl 3,assuming you have atleast 1 damage item finished it can deal up to 1k true dmg and more which is just absurd really.
Now to make sure you use the most of this ability,be sure to use it at 5 stacks of passive,basically this ult's dmg increases by 20% for each stack up to a maximum of 100%,it also does apply a stack of passive meaning you can even use this at 4 stacks and then apply the 5th stack with it if you're unable to melee the enemy laner anymore,chances are they could still potentially die from the bleed,so that's cool,the slam dunk also makes every creep flee in terror at the sight of those hairy armpits of yours,so yea.
Last awesome effect is,it allows resets if the enemy actually dies from this specific ability,the reset can be reactivated up until 20 seconds where it then goes on CD,up to the 3rd rank,this ability unlocks,essentially meaning it allows infinite usage of this ult for as long as the target actually dies from it,so no reset cooldown duration,awesome.
I believe this is a topic that does get mentioned but doesn't get thrown around nearly enough, but yet plays a big role and how you deal with games, in a nutshell though, making sure you are playing with the correct mindset every game is the key to climbing, if you're tilted from a losing spree or from IRL circumstances it's never a bad idea to take a small break ranging between a few mins / hours to days as it helps reset your mental focus, understanding that playing to win and not just playing for the sake of playing is a huge part of what makes a solo q climb possible, introducing elements into your life that help reduce the stress and put you in a positive state of mind is actually pretty huge, one of my rituals is to make sure I've showered and had a filling meal before binging on a playing spree, yours could be practically anything for as long as it puts in the correct state of mind, a good way to explain the effect ragequeuing has on you is like the gambling effect, when you lose a certain amount of currency of any kind, you're naturally inclined to get it fast asap, especially when you came in with the intention of actually winning more not losing, and the domino effect kicks in because u start losing even more than before, and this puts you in a state of autopilot and this lads is

BAD

and when it does happen you need a mental reset.
If you answered with level 11 well then I commend you, but let's just take a step back and ask ourselves;
Well Timmy, let me explain, when you get level 6 your ultimate at maximum stacks of your

Hemorrhage
deals about 350ish true damage, but something magical happens when you ding 11 that wont happen ever again,