x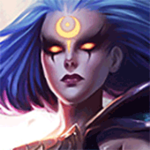 Did this guide help you? If so please give them a vote or leave a comment.
You can even win prizes by doing so!
I liked this Guide

I didn't like this Guide



Commenting is required to vote!

Thank You!
Your votes and comments encourage our guide authors to continue
creating helpful guides for the League of Legends community.
Champion Build Guide

Abilities:

crescent strike
◕ you would use
crescent strike
as a 'mobility' ability around half the time,
[Q on minion, R to minion, R to main target]
,
so i believe it's not a good idea to max it out, especially since this is a hybrid build that does not stack AP.
◕ learn to walk a bit to the left side when chasing an enemy. do not walk straight behind him. this should help your Q to land better.

Pale Cascade
◕ makes up most of your casual "burst" damage,
it is very beneficial to max your W first,
laning and trading gets easier,
clearing raptors, krug, wolves, scuttle and gromp gets easier,
◕ each 'sphere's explosion radius is NOT around the orb itself, it's around you.
you can use
Pale Cascade
WHILE channeling your ultimate. use this tip to apply maximum burst pressure on main target.
◕ if you cast
Pale Cascade
BEFORE ultimate, some spheres may come in contact with minions and explode while channeling ultimate, hence wasted. it is recommended to cast it right before landing.
◕ is accepted by shield bash rune.

Moonfall
◕ your SUCC ability. save it for when enemy attempts to run away,
use it to collect multiple minions and monsters so your passive and W hits all of them,
or use it after depleting
crescent strike
,
Pale Cascade
and two
Lunar Rush
to keep up the passive attack speed.
◕ when you're being chased by a melee enemy, cast
Moonfall
if they're i range, this will NOT kill you. the lingering slow effect will save you.

Lunar Rush
◕ you can use
Lunar Rush
as soon as you've finished casting
crescent strike
(if you're sure it's gonna hit) and it will reset
Lunar Rush
even if
crescent strike
lands AFTER your
Lunar Rush
.
◕ [for lower latency] you can use
crescent strike
instantly AFTER casting
Lunar Rush
and it will still reset your
Lunar Rush
.
◕ you can use moonlit enemies as proxies to reach main target.
◕ you can also use
Lunar Rush
to be a mosquito like irelia is.
Lunar Rush
in,
Lunar Rush
out.
---
here's the item set code for the builds:
{"title":"Diana","associatedMaps":[11,12,10],"associatedChampions":[131],"blocks":[{"items":[{"id":"3364","count":1},{"id":"3340","count":1},{"id":"1041","count":1},{"id":"1082","count":1},{"id":"1054","count":1},{"id":"2031","count":1},{"id":"1039","count":1},{"id":"3302","count":1},{"id":"3097","count":1},{"id":"3401","count":1},{"id":"4201","count":1},{"id":"3135","count":1},{"id":"2032","count":1},{"id":"2033","count":1}],"type":"Base"},{"items":[{"id":"4101","count":1},{"id":"3706","count":1},{"id":"1027","count":1},{"id":"3057","count":1},{"id":"1001","count":1},{"id":"1052","count":1},{"id":"1028","count":1},{"id":"3916","count":1},{"id":"3020","count":1},{"id":"1026","count":1},{"id":"3113","count":1},{"id":"3100","count":1},{"id":"1058","count":1},{"id":"3907","count":1},{"id":"3116","count":1},{"id":"2420","count":1},{"id":"1029","count":1},{"id":"1031","count":1},{"id":"1033","count":1},{"id":"1057","count":1},{"id":"3193","count":1},{"id":"3165","count":1}],"type":"Lunar ****"},{"items":[{"id":"4101","count":1},{"id":"3715","count":1},{"id":"1036","count":1},{"id":"1052","count":1},{"id":"3145","count":1},{"id":"1027","count":1},{"id":"1001","count":1},{"id":"3057","count":1},{"id":"1042","count":1},{"id":"1038","count":1},{"id":"3095","count":1},{"id":"3020","count":1},{"id":"3108","count":1},{"id":"1414","count":1},{"id":"3135","count":1},{"id":"2015","count":1},{"id":"3086","count":1},{"id":"3087","count":1},{"id":"1053","count":1},{"id":"3144","count":1},{"id":"3146","count":1},{"id":"3044","count":1},{"id":"3101","count":1},{"id":"3078","count":1}],"type":"Hybrid Lunar ****"},{"items":[{"id":"3102","count":1},{"id":"3135","count":1},{"id":"3089","count":1},{"id":"3151","count":1},{"id":"1402","count":1},{"id":"4104","count":1},{"id":"3170","count":1}],"type":"sexy items"}]}